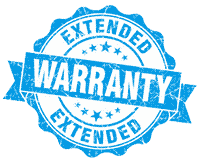 REGISTER YOUR R420R (RAZOR) FOR A FREE, EXTENDED 12-MONTH WARRANTY
If you've already bought this product from us then fill in the form to register for a 12-month extended warranty.
Register Your Device Now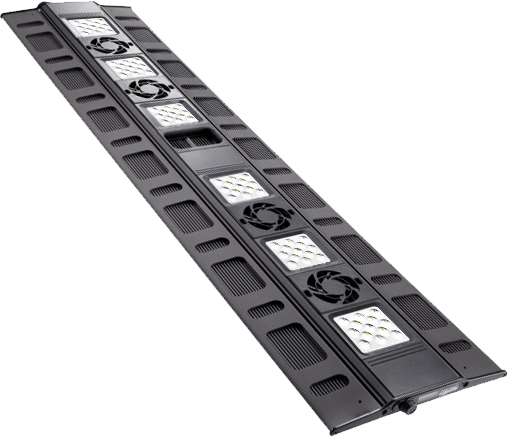 Redefined Efficiency
The R420r LED Lighting System redefines the term efficiency, with temperature controlled cooling system, utilizing highly efficient high intensity LED chips from Cree, drawing 180w of power but can out-perform 400w metal halide fixtures.
Slim and Elegant
Built with a slim and low profile body, the R420r LED Lighting System is design to seamlessly merge into your living area with elegance. The R420r also comes with both pendant mounting kit as well as tank-top mounting frame, whichever suits you better.
Aerodynamic Design
The R420r Lighting system deploys an ingenious aerodynamic design which draws cool air from underneath the fixture, through its body which also serves as a large heat sink, to dissipate heat passively.
---
Photosynthesis
Photosynthesis is vital to almost all corals and plants on the planet, but they do not just need any kind of light, instead they require light in a specific ranges of spectrum in order to survive and thrive, namely the wavelengths that Chlorophyll A and Chlorophyll B require, as illustrated in the diagram to the left, since they are the two most dominant forms of Chlorophyll found in corals and plants.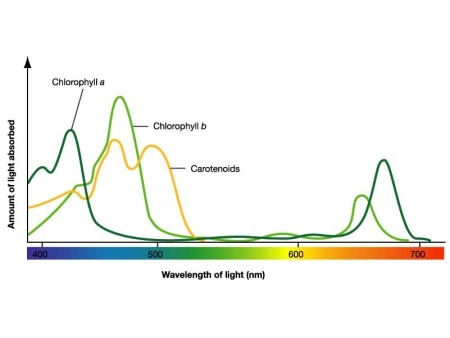 ---
Enhanced Growth and Colouration
The R420r Lighting system is designed to provide all ranges of color spectrum required by corals and plants to enhance their growth rate, improve their coloration and at the same time giving your aquarium the most aesthetically pleasing combination of colours.
The R420r is available with a color temperature of 15000K, thus meeting the expectations of the most demanding aquarists.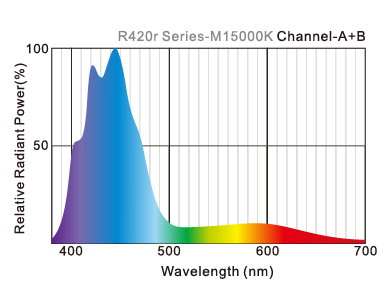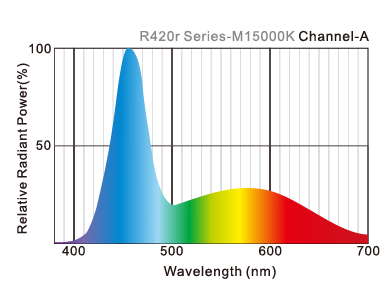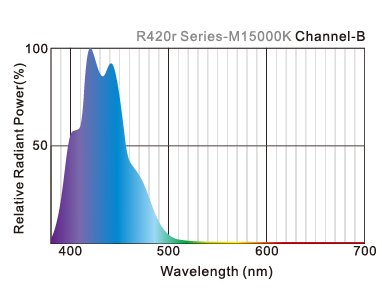 ---
410nm/420nm Super Actinic
The R420r Lighting system also utilizes the 410/420nm Super Actinic LED chips, the spectrum that's crucial for the success of any reef and water plant aquariums as it is required by Chlorophyll A for photosynthesis, where absorption peaks at 412nm. Super Actinic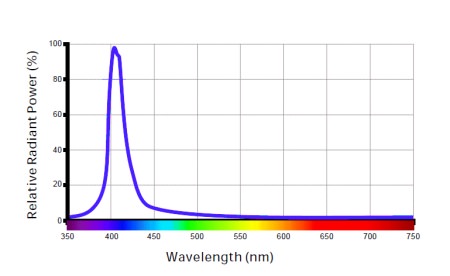 ---
---
Smart-Cooling

The R420r Lighting system is designed to be primarily cooled passively, the body of the R420r is crafted entirely in aluminium, serving as a large heat sink, together with an ingenious aerodynamic design, cool air is channelled through the bottom of the fixture and heat will be dissipated through the aluminium chassis. With a built-in temperature controlled system, active cooling will be engaged as needed to ensure optimized performance.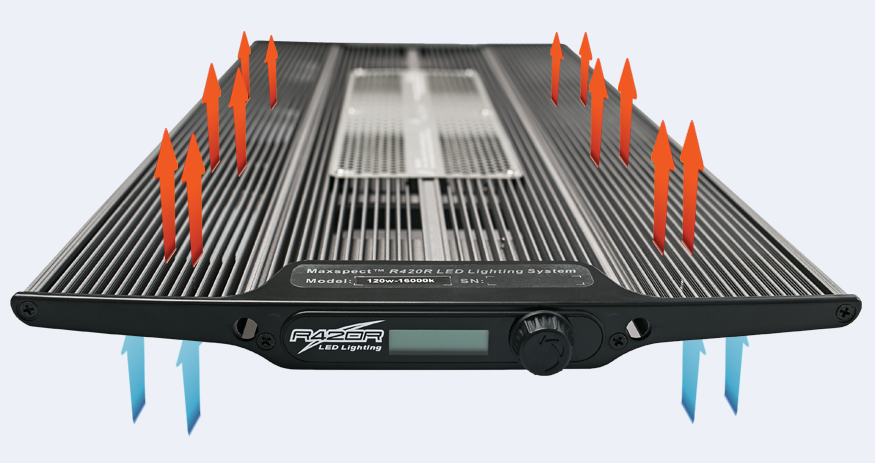 User Programmable
With 6 Time-Points, users can program their own photo-period for their aquariums; fully control the intensity of light their aquarium will receive from dawn to dusk.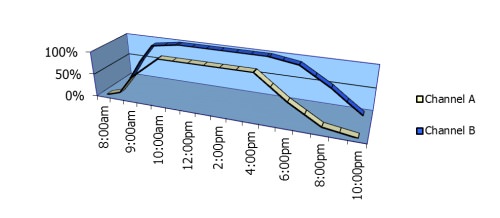 ---
Performance
Utilizing the latest high performance high intensity Cree XLamp® XT-E and XP-E LED chips, equipped with 120° degrees optics, the R420r will consume less power yet producing more PAR (Photosynthetic Active Radiation) for even you're most demanding corals.
PAR Measurement
PAR measurement of a standard 180w R420r LED Lighting System.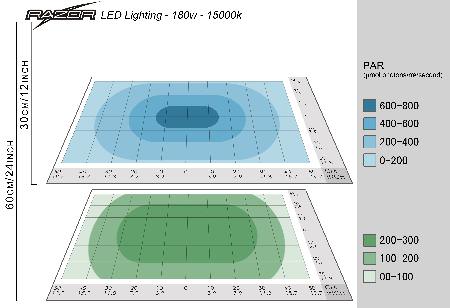 ---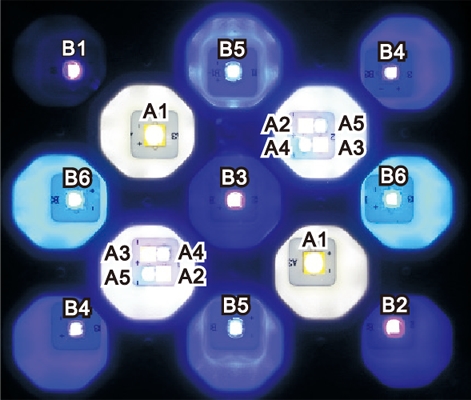 Specifications
The R420r LED system utilize the latest in LED technology, including Cree XT-E and XP-E high intensity LED chips distributed in 2 different channels, offering unmatched performance and versatility.
LED Layout of each Pad (6 Pads for 320W Pads for 180W, 2 Pads for 130W, 1 Pad for 70W Nano)
Channel AChannel B
| | |
| --- | --- |
| A1: 6500 - 7000K Cree XT - E×2 382 lm @ 1.3A | B1: 400 - 410nm SemiLEDs×1 693 mW @ 0.85A |
| A2: 4500 ~ 5000K Cree XB - D×2 176 lm @ 0.65A | B2: 410 - 420nm SemiLEDs×1 810 mW @ 0.85A |
| A3: 3000 ~ 3500K Cree XB - D×2 155 lm @ 0.65A | B3: 420 - 430nm SemiLEDs×1 902 mW @ 0.85A |
| A4: 455 - 460nm Cree XB - D×2 813 mW @ 0.65A | B4: 440 - 450nm SemiLEDs×2 760 mW @ 0.65A |
| A5: 465 - 475nm Cree XB - D×2 55 lm @ 0.65A | B5: 450 - 460nm Cree XT - E×2 1520 mW @ 1.3A |
| | B6: 470 - 480nm SemiLEDs×2 80 lm @ 0.65A |
---
Different Sizes: Dimensions and Weight
The R420r is available in 4 sizes and 4 different powers and is suitable for aquariums ranging from 40 cm up to 164 cm.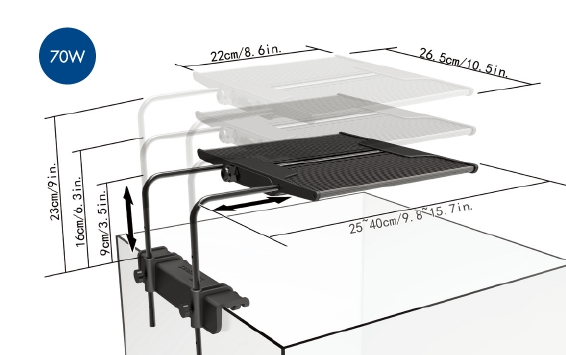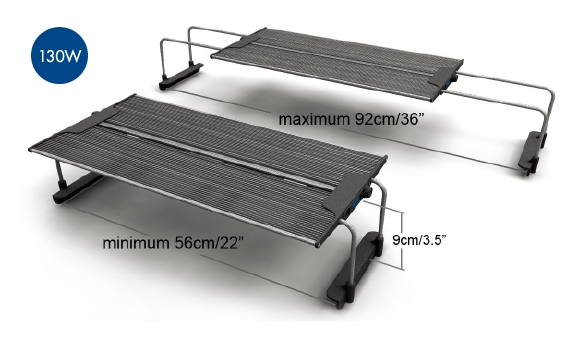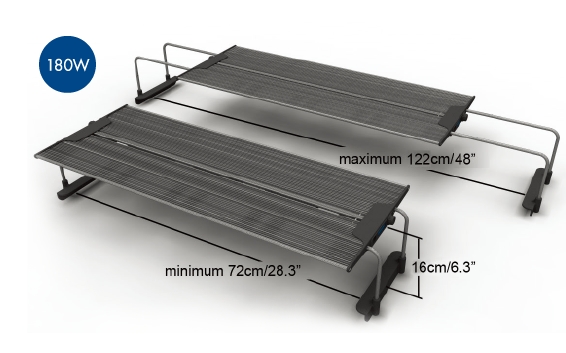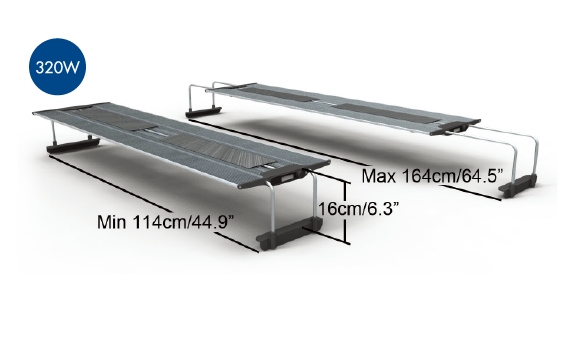 R420r 320W

Dimensions (L x l x h) : 1100mm × 265mm x 25mm
Weight : 4 kg (8.8 lb)

Power Supply Unit : Meanwell NES-350-36

Input Voltage / Current
7A/115VAC - 4A/230VAC

Output Voltage / Current
36V 9.7A


R420r 180W

Dimensions (L x l x h) : 690mm × 265mm x 25mm
Weight : 2 kg (4.4 lb)

Power Supply Unit : Meanwell NES-200-36

Input Voltage / Current
4.5A/115VAC - 2.5A/230VAC

Output Voltage / Current
36V/5.9A

R420r 130W

Dimensions (L x l x h) : 520mm × 265mm x 25mm
Weight : 2 kg (4.4 lb)

Power Supply Unit : Meanwell NES-150-24

Input Voltage / Current
4.5A/115VAC - 2.5A/230VAC

Output Voltage / Current
24V 6.3A

R420r 70W Nano

Dimensions (L x l x h) : 220mm × 265mm x 25mm
Weight : 1.5 kg (2.2 lb)

Power Supply Unit: Meanwell NES-75-15

Input Voltage / Current
1.5A/115VAC - 0.9A/230VAC (60W)

Output Voltage / Current
15V 5A
---